Apple Cider VinegarThe mildly acidic nature of this helps balance pH of hair and skin and also helps to remove buildup. ACV encourages the cuticle of the hair to lay closed, making hair shine and tangle less. More (ACV) rinses are a go-to for natural hair care enthusiasts. They smooth the cuticle, making hair shine and tangle less and restore the acid mantle, making hair shine and keep the scalp happy. They're often used as a follow-up to no-poo washing, but and many people first learn to ACV Rinse as a follow up to doing damaging baking soda washes. Using Forest Glade or Sunlit Meadow gives your DIY Herbal ACV Rinse extra plant-based benefits. If you're a henna user, this blend of herbs and mild acid is perfect for the liquid portion of your mud!
Step 1: Select your Herbal Rinse
You can technically use either one regardless of your hair color, but those with very light hair or very porous hair should stick with Sunlit Meadow.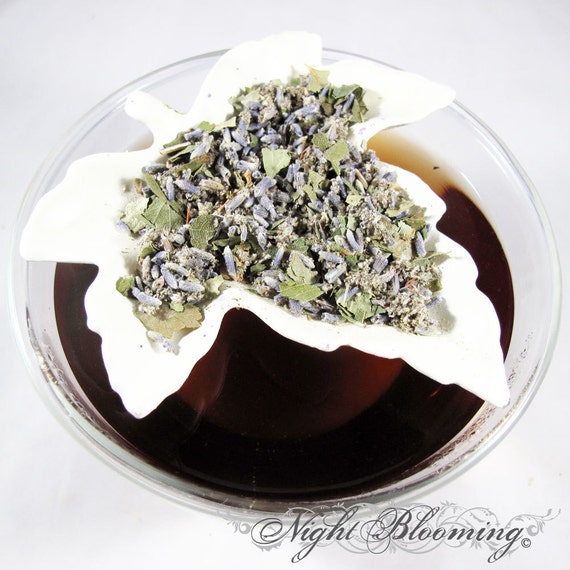 Forest Glade Herbal Rinse for Dark Hair
Forest Glade Herbal Rinse for Dark Hair is made from leaves and flowers that, once steeped in water, will nourish and condition your scalp and hair.
Ingredients
Sage: Helps reduce the buildup of oil on the scalp and promotes healthier hair.
Birch Leaves: Helps to maintain the health of the scalp and reduces shedding.
Lavender Buds: Stimulates the scalp and encourages hair growth.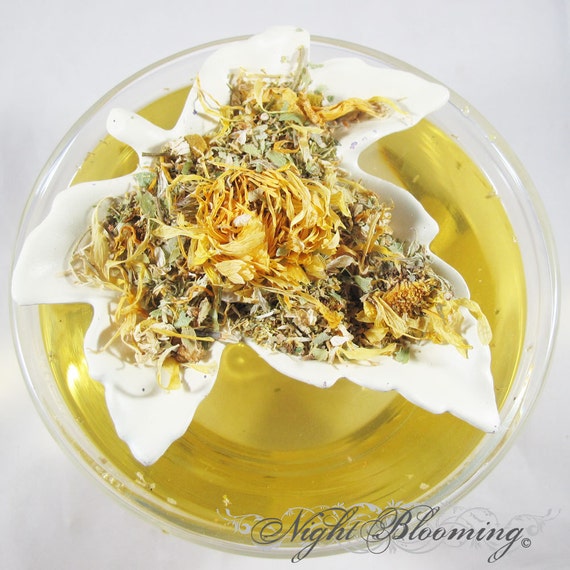 Sunlit Meadow Herbal Rinse for Light Hair
Sunlit Meadow Herbal Rinse for Light Hair uses golden-colored herbs and flowers to smooth, condition, and revitalize your hair.
Ingredients
Linden Blossoms & Leaves: Helps over-stressed or dried-out hair regain luster and moisture. Promotes circulation of the scalp and aids hair in growing in healthier.
Chamomile Flowers: Promotes hair growth, soothes scalp and is a natural hair conditioner for the length.
Calendula Flowers: Gives the hair shine and softness.
If you don't have either of these on hand, don't worry! Chamomile tea is easy to find at your local grocery and is a great way to test drive a DIY Herbal ACV Rinse!
Step 2: Brew your Rinse
In a large cup heat 6 cups water to boiling. Add in 1/4 c herbs, cover and allow to cool. At this point you can also add 10 drops of essential oils of your choosing.
Step 3: Add ACV
Add 1/4 c ACV to your rinse and give it a stir. If you'd like, you can double or triple this recipe and keep it in a pitcher for your next few washings.
Step 4: Apply the DIY ACV Herbal Rinse
You will need 1 large bowl and cup to apply the rinse. Standing in the shower, place the large bowl on the floor and kneel over it. Pour the rinse through your hair, catching the rinse in the bowl.
Transfer the rinse to the cup, and then pour back through your hair into the bowl. Repeat several times until you feel your hair is saturated with the rinse. You may delay rinsing until later to allow your hair to drink in the benefits. Your DIY Herbal ACV Rinse should be applied to clean hair.
That's it! If you try a DIY Herbal ACV Rinse I'd love to hear about it in the comments!
 Rehabilitating Damaged Hair Naturally
Content excerpted from Rehabilitating Damaged Hair Naturally It's the book I wrote after I destroyed my own hair when chemical dyes, which put my hair in a state not far off of those suffering from no-poo baking soda damage.

More than 70 pages of text, pictures, charts, diagrams, and recipes, Rehabilitating Damaged Hair Naturally will help you understand what healthy hair is, how to grow it, and how to mitigate and prevent damage. With simple at-home diagnostic tests and treatments, Rehabilitating Damaged Hair Naturally will teach you what your hair needs most and empower you with the confidence to customize your own haircare routine.